My Big Move To WordPress, So Long Blogger!
|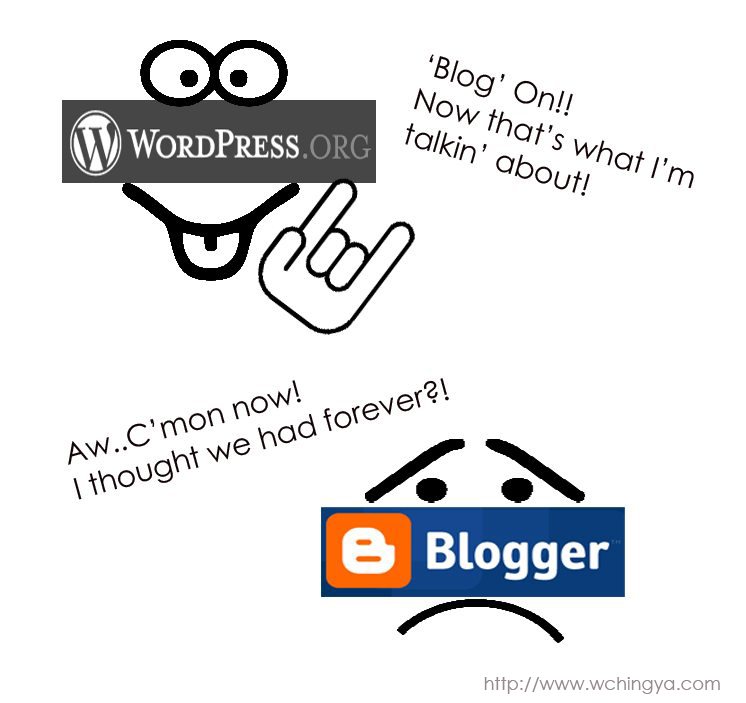 First of all, I apologize for the recent 'nudge' you received from the feedburner/email alert for the previous posts. It was not intentional.
Well, the thing is…
I broke up with Blogger ! !
After months of talking about it, I finally got my hands dirty and played with the WordPress-mud! It was the scariest, most thrilling and fulfilling blogging task I've ever done! The effort killed most of my brain cells for all the modifications, also the heart attack moments to retrieve the backlinks. I've tested about 20++ templates before I'm settling down with this one. It's not 100% perfect from the migration, and some layout still runs off for older posts, but I'm satisfied with what it has turned out so far. May need to go back later for some fix-ups, when I'm recovering from blurred eyesight and sore neck after hours of intense staring at the codes.
So here's a brief overview of this template:
I love the layout, it's catchy, 2-user-friendly-n-wide-enough columns for ease viewing. Including brief Twitter updates on the header for some fascinating resources or articles found online. It's a disappointment that I'm not able to save the past commenters' links during the migration. However, in future, I hope to make it up to you by providing link loves/publicity via CommentLuv / Top Commenters plugin & also my Recent Posts (sidebar) without manually embedding them as I once did in Blogger.
There's too much I'd like to share. I plan to write an ebook about the migration, and provide as much details as possible so others may benefit from the experience. I've referred to some nice websites during the migration. Some helped while some just didn't work for me. Probably due to the different templates, settings and all. I hope this ebook could assist some of you who are planning for the migration. Also, I'd like to give credits to those who helped me throughout the process as well.
Could you guys do me a favor? I'd love to hear some suggestions on the WordPress plugins too since I'm still relatively new in WP. I've got some in mind already but I'll include your suggestions (preferably tested by yourself), along with your blog link (non-adult related sites)  in my coming ebook if they're useful. My appreciation to your feedback. =)
What do you think of my new home?